Would you like to hire a storyteller for your event?
The Grampian Association is the largest group of storytellers in the North East of Scotland. GAS runs a register of Storytellers who you can hire to tell stories at your event. See below for details: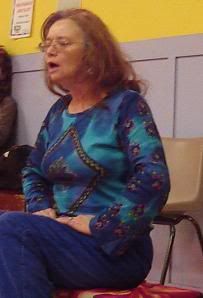 Hire a storyteller
To enquire about hiring a storyteller, please contact GAS secretary at gas_story@hotmail.com
Our storytellers come from all sorts of backgrounds and have decades of experience between them! In the past few years, our storytellers have told at schools, community groups, on the Reading Bus, local festivals such as the Portsoy Boat Festival and the Kintore Summer Festival, at environmental events such as Treefest and as far afield as Canada, India and the Glastonbury Festival of Performing Arts.
By requesting a storyteller (or storytellers!) from us, we can contact everyone on our storytellers register letting them know exactly what you're looking for in a storyteller. Those who are interested at telling at your event will reply to us and we can pass on a web link or pdf summary of the teller so you can choose your storyteller.
To help us help you, please include as much information as possible when you contact us. For example, What date and time is the event? Will the session be targeted at adults, children or families? Would you like a particular theme? Will a fee be available? (see below)
Please email our secretary at the email address above.
Storytelling Fees
These are the current rates recommended by the Scottish Storytelling Centre from their web page (http://www.tracscotland.org/traditional-arts/storytelling/directory-of-storytellers/booking-rates)
Storytelling sessions
Half day £120 plus travel expenses
Full day £200 plus travel expenses
A full day consists of a morning and afternoon, or an afternoon and evening. A half day consists of a morning, afternoon or evening, comprising up to two hours of storytelling with a suitable break.
Storytelling training workshops (including CPD)
Half day £230 plus travel expenses
Full day £350 plus and travel expenses
Not-for-profit/voluntary organisations:
Half day £200 plus travel expenses
Full day £300 plus travel expenses

Tailormade training (e.g. private sector business management workshop)
Priced according to requirements
The Scottish Storytelling Forum's recommended mileage rate is 40p per mile. Whenever possible, the storyteller's travelling expenses should be covered by the organisation booking the visit. If a booking requires an overnight stay, then this should also be considered, along with a subsistence allowance. However, the way in which the venue/organiser and storyteller agree fees, number of sessions, and expenses should always have some room for flexibility. This ensures that a fair arrangement can be made and the best possible use of everyone's resources achieved.
Where events and projects require a period of research, preparation and attendance at meetings there may be additional costs.
Charity Organisation/Event?
Don't be put off by the above fees if you're a Charity Organisation or Event however, many of our storytellers, although professional, do it for the love of storytelling and it's quite possible that we will find a storyteller for you at a reduced cost or even on a voluntary basis.